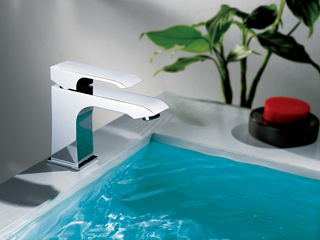 It is very important to check the quality of the cartridge,material, technology of surface plating , water saving during we choose the faucet. Now in the market,good quality faucet using the wear-resisting ceramic cartridge, working life is longer than other cartridge. What is more, under the requirements of environmental sanitary ware, many brands gradually adopted the lowest levels of lead for the copper.In order to make sure to minimize the impact on the human health. The majority of faucet 's surface plating is chrome,if the technology doesn't good enough, After a period of time using,there are a lot of bad phenomena in the surface,such as rub off , fall out ...etc. So we need to take more attention of these point when you choose the faucet, and check the warranty period of the faucets
The maintenance of fauce
1.It is better to install the faucet.with the help of the perienced professionals.
If your home finish decoration short time,maybe in the water supply pipe will remain part of the debris. So before we install the faucet, we need to clean the debris inside and open the water few minutes. Taking more attention not to hurt the faucet by external things during the installing DONGLIN Company faucet, also noted the cement and paint can't touch the faucet surface to reduce the disruptions to the chrome plating.
2.Take down the aerator to clean the residual impurities inside periodically, To ensure the flexible hose naturally straighten under normal conditions., do not winding the flexible hose to make damage.
3.Please keep dryness of faucet's surface after use, keep in mind not to use the handle as armrest, support.
4.Don't open and close too hard on the faucet, that will damage the faucet, a little twist is ok,
5.Generally, There is two reason cause the loose of handle. Firstly, The handle didn't fix tight enough,so we need to tighten the screw. The second reason is the material, The connection point of the inferior handle and cartridge is aging fast.It will cause corrosion to make the gap expanded.